Free books
These free books are available for download as an exclusive gift to you for subscribing to my mailing list. No spam, no third parties, no obligation.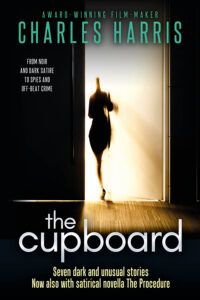 SEVEN DARK AND UNUSUAL STORIES
A magician walks into a cupboard and is never found…
A sleeper agent lives in fear of retirement…
A cat-lover suspects her husband of murder…
A dog's name risks ruining a love affair…
Bestselling and award-nominated author Charles Harris brings his typical dark humour, razor-sharp eye and the effortless control of a master storyteller to pack a novel's worth of plot into a page, revealing worlds that are both recognisable and yet subtly shifted as he tells of the moments when lives are changed forever.
In genres that vary from mystery, magic-realism and supernatural fantasy to off-beat romance and espionage, the seven bite-sized stories and novella in this short, yet perfectly-formed, collection are brimming with surreal invention and compassion.
Plus bonus novella The Procedure
DOWNLOAD MY BOOK ON SATIRE FOR FREE AND GET 80 MORE FREE BOOKS INCLUDED.
I've searched out links to the greatest works of satire online, from the very earliest to the very latest, from world-famous novels and plays to TV scripts.
Explore classics and best-sellers you've always meant to read, and discover exciting new works for free. (Plus a few that you may have to pay for, but are well worth the price if you can afford them).
With an introductory chapter describing the history of satire, and a few extra surprises along the way.
Get the exclusive download link now
Leave a reply on "Free books"