The Cupboard – short stories with bonus novella The Procedure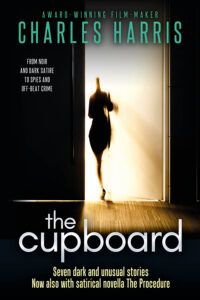 Seven dark and unusual short stories
"Had me gripped" – Lyn Moffett
"Unique and fascinating" – Brian Moyo
"Constantly surprising" – Spiros Kagadis
From noir and dark satire to spies and off-beat crime, the seven short stories in this compact, yet perfectly-formed, collection brim with excitement, invention and compassion.
A magician walks into a cupboard and is never found…
A sleeper agent lives in fear of retirement…
A cat-lover suspects her husband of murder…
A dog's name risks ruining a love affair…
Bestselling and award-nominated author Charles Harris brings his typical dark humour, razor-sharp eye and the effortless control of a master storyteller to pack a novel's worth of plot into a page, revealing worlds that are both recognisable and yet subtly shifted as he tells of the moments when lives are changed forever.
In genres that vary from mystery, magic-realism and supernatural fantasy to off-beat romance and espionage, the seven bite-sized stories and novella in this short, yet perfectly-formed, collection are brimming with surreal invention and compassion.
"A natural story-teller" – Ian St James Awards
Now with bonus novella The Procedure
When two astronauts find themselves stranded in a distant galaxy far from earth, they don't panic – the space mining company they work for has a rescue procedure that has never failed. But the procedure brings its own surprises…
Blue Coast Publishing
ISBN 978-1-8380730-4-6
Download the ebook for free – exclusive to subscribers to my newsletter
Praise for short stories in The Cupboard:
"Had me gripped."
Lyn Moffett
"Fascinating."
Brian Moyo
"Unique and fascinating. Each story is totally different from the others and I shake my head at the imagination of Charles Harris. Well worth reading."
Sylvia Charlton
"This constantly surprising new book by award winning writer Charles Harris consists, just as his title says, of seven distinct stories which are truly fascinating to read. I highly recommend the purchase of his book!"
Spiros Kagadis
"I love the short story collection, 'The Cupboard'. Charles Harris's use of language and his writing temp are excellent. Even in a short story he can draw out the conclusion masterfully. The Cupboard the first story in the selection is my favourite. Well done and look forward to reading more of your work."
Nadine McGregor
Leave a reply on "The Cupboard – short stories with bonus novella The Procedure"