Not the Oscars
14 Tuesday Mar 2023
NOT THE OSCARS
Excited about the Oscar winners? Don't bother: get excited about Not the Oscars! The good movies that the Academy (and my fellow BAFTA voters) passed over.
If you want eight movies that will wake you up, surprise and entertain, put on your tuxedo, roll out the red carpet and read on.
Not a vintage year
It's hardly been a vintage year for nominations. No Scorsese, no Woody Allen, no Tarantino, no Almodóvar, no Coen Brothers. I could continue.
Spielberg's Fabelmans reminded me of my own amateur film-making youth, but hardly struck sparks with a surprisingly flat plot and odd casting. (Is that really supposed to be a convincing Jewish family?)
Everything Everywhere All at Once was OK. Fun, even. But too knowingly clever for me to fall in love with it.
And just about every nominated film is at least 30 minutes too long. (Yes, even you, Elvis!) I call it the Netflix Flab Factor. In the days when a film's shop window was the cinema release, long films were difficult to programme – over two hours and the cinema had to cut one of the day's screenings to fit it in. Fewer ticket sales, fewer sales of the two most profitable things on the planet: Coca-cola and popcorn!
The director would fight the studio. The film would get cut to a sensible length and the director would go on to issue a DVD of the director's cut with the missing half hour replaced. Which almost nobody would watch.
But on Netflix, there's no issue with scheduling. Films can be as long as they like. So, to humour the director, they are. Every film is now a director's cut. And they all sag in the middle as a result.
Not the Oscars
I can't guarantee there is no flab at all in my Not the Oscars choices, but I can offer you my top eight nominees for stories that stand out from the Academy-targeted crowd.
Stand by. Clear your throat. Open the envelopes. In time-honoured reverse order, the winners of Not The Oscars are…
8. Amsterdam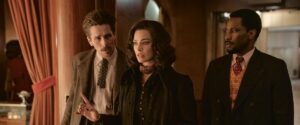 This true-story-inspired comedy conspiracy-thriller is a stylish return to the screen for David O. Russell, whose last film was the underrated Joy, in 2015. Russell's back catalogue includes Silver Linings Playbook, Three Kings and American Hustle, so he has form.
Christian Bale, Margot Robbie, and John David Washington star as three friends who find themselves framed for murder in a 1930s fascist conspiracy.
Inspired by the so-called Business Plot of 1933, to overthrow the government of Franklin D Roosevelt, Amsterdam, mixes historical thriller, farce, drama and a whole host of other genres, together with an impressive supporting cast, from Chris Rock to Taylor Swift and Robert De Niro.
Yes, there are a few flabby scenes, but it's well worth seeking out for something that really is different.
7. The Good Nurse
Jessica Chastain and Eddie Redmayne puts in sterling performances in this true crime thriller about a serial killer stalking hospital wards.
Chastain plays Amy Loughren, a nurse who grows suspicious of the number of deaths of patients on her watch. Her good friend and fellow nurse Charlie Cullen is never actually around when the patients die, but is he somehow connected. The more she digs, the more she fears the worst.
Redmayne plays Cullen with an admirable charm. Aside from the opening shot, where he adopts a rather cliché hunched "serial killer walk", he avoids the conventional stereotypes and is all the more scary as a result.
But even more chilling is the willingness of all his previous employers to brush their own suspicions under the carpet to avoid losing business. Instead of investigating the deaths, each hospital has simply sacked him, allowing him to move on to kill again, like a virus released into the community. Only the real virus is commercial greed.
A gripping story that is all the stronger for being based on truth.
6. The Forgiven
To Morocco to see two rich bickering Westerners suddenly plunged into the disconcerting world of the local tribespeople, who they are more used to overlooking as servants, tourist attractions or vague figures beside the road.
Adapted by writer-director John Michael McDonagh from the novel by Lawrence Osborne, The Forgiven stars Ralph Fiennes and Jessica Chastain (again) as the romantically-challenged couple, whose car hits and kills a young teenager as they drive through the desert to a debauched villa party in the middle of nowhere.
Only, of course, it's not nowhere. People live here. And when the dead boy's father appears, demanding "the Englishman must pay," Fiennes has to choose whether to do the morally right thing and accompany the man back to his village for the teenager's funeral. A choice that is fraught with potential danger.
An intelligent movie which racks up the tension while avoiding the predictable and ensuring that all the characters are believable.
5. The Sparring Partner
This gripping if gruesome Hong Kong courtroom drama, written by Frankie Tam and directed by first-timer Ho Cheuk-Tin is based on a true crime story – do you notice a recurrent theme in Not the Oscars this year? Is it just that financiers feel safer with true stories or are we seeing a knock-on effect from all those true-crime podcasts that have become so popular in recent years?
When his parents go missing, Henry (Yeung Wai-lun) first makes a public appeal for help in finding them, then confesses to their murder. However, his guilt is not the main issue. He comes over as chillingly unpleasant. But in the process he accuses his friend Angus (Mak Pui-tung) of helping cut up and dispose of the bodies.
Is Henry telling the truth, or vindictively setting up the simple-minded but sympathetic Angus as a patsy?
The movie alternates powerfully between the horror of the double murder and the inexorable progress of the trial, and we are kept guessing as to the outcome right to the end.
Probably best not watched while eating.
4. She Said
Shunned both by the awards ceremonies and the box-office, She Said is nevertheless a powerful drama and the (ahem) true story of how New York Times reporters Jodi Kantor and Megan Twohey managed to expose Harvey Weinstein's history of abuse against women.
Maybe awards voters and audiences were put off by what might be seen as a slow pace. Don't be. The movie, based on Kantor and Twohey's book of the same name, builds its tension from the painstaking and enormously difficult task of investigating one of the most powerful men in Hollywood. Who will dare to stand up against him, and almost certainly destroy their own careers?
Director Maria Schrader and screenwriter Rebecca Lenkiewicz do a great job in creating suspense while showing the step-by-step work of dedicated journalists. We know the outcome, of course, but how was it reached – and at what personal cost?
3. All the Old Knives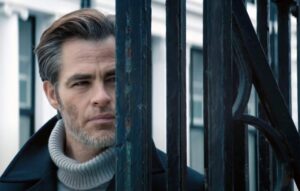 You almost certainly won't have heard of this noir spy thriller, directed by Janus Metz Pedersen and adapted by Olen Steinhauer from his novel of 2015.
Clearly its publicists decided it was best kept a secret among themselves. However, if you seek it out, you'll find a stylish treat of a movie.
When the CIA decide to re-open the case of a tragic terrorist hijacking from eight years before, officer Henry Pelham (Chris Pine) is sent to interview his ex-lover Celia Harrison (Thandiwe Newton). Was there a leak from the Vienna station, where Henry and Vick worked at the time? Was Celia involved and why did she suddenly leave him shortly after?
As he digs into the past, the plot starts to twist and turn. Who is manipulating who?
The whole film takes place more or less over a single afternoon in a mostly deserted (and very modishly shot) Carmel restaurant, with flashbacks. As everything we thought we knew is overturned, the truth begins to reveal itself.
Cool clever writing and cool understated performances make this a great antidote to overblown Marvel franchise movies and unfunny romcoms.
2. Decision to Leave
Yes, I know: another stylish Asian movie and another slow-burn noir. This time it's South Korean detective Hae-jun (Park Hae-il) who becomes obsessed with clever and manipulative widow Seo-rae (Tang Wei). Obsessed despite – or perhaps because of – his suspicions that her widowhood might not be as accidental as it first appears.
Director and co-writer Park Chan-wook has established himself internationally for his mix of savage subjects, black humour and artistry. Decision to Leave retains the artistry, but moves away from the brutal to deliver a story in which the emotions are powerful yet deeply repressed.
Is Hae-jun right to submit Seo-rae to intensive and personal surveillance or is he working out some workaholic issues of his own? Is his obsession with her putting his own marriage at risk? And if she is indeed a murderer, what else is he putting in danger? His career? His own life?
There are a few moments in the middle that could probably have done with a bit of judicial pruning, but this one is definitely worth chasing down and staying with to the (bitter?) end.
And finally (opens last envelope) the winner and best Not the Oscars movie of 2023 is…
1. The Menu
The Menu is described as a comedy horror, though it's not conventional horror in the Blair Witch or Frankenstein mould, and you're unlikely to laugh much, unless you are either very strange or a chef.
A small group of rich gourmets have spent a small fortune to travel to the private island restaurant run by celebrity chef Julian Slowik (Ralph Fiennes). But tonight's menu threatens to be rather more challenging than usual. As each course arrives, Slowik reveals a hidden and rather scary agenda. And there is no escape.
Written by Seth Reiss and Will Tracy, and directed by Mark Mylod, The Menu constantly keeps you guessing. As with all good horror movies, the trapped guests all have their own skeletons in the closet and Fiennes hunts them down with relish, with a delectable fiery performance.
The film is not flawless. I would have liked some of the more spineless guests to have had a bit more gumption, but it rollicks along with great satirical abandon. All the movies in my top eight show bravery and avoid cliché, and The Menu is my winner because it is the bravest and most original.
You'll never look at restaurant staff the same way again.
Now, tell me your own Not the Oscars favourite – or indeed least favourite – movies of the year.
Read more